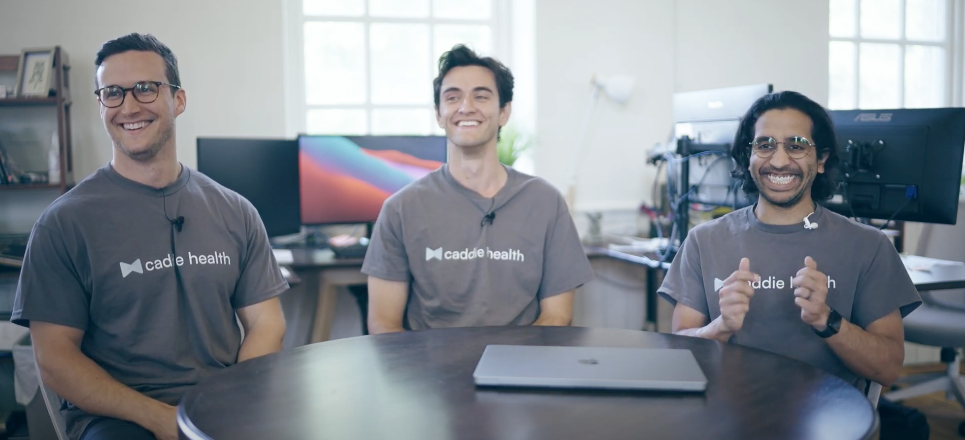 January 2023 – Three Queen's University graduates have joined Kingston's innovative healthcare ecosystem with an inventive plan to ease the administrative burdens of Canada's family physicians.
Caddie Health's Ace billing software uses machine learning and natural language processing to predict and curate diagnosis and billing codes based on clinical notes authored in the electronic medical record. The system aims to give family doctors more time for patient care — and improve the financial health of their practices — by reducing the time they spend on tedious administrative tasks.
Caddie Health, has launched its ground-breaking medical billing software this month at the Queen's Family Health Team where it is being used by physicians and administrative staff.
The company was co-founded by Kingston physician Dr. Akshay Rajaram, now Caddie Health's Chief Product Officer, and Michael Judd, a Queen's engineering grad and the company's Chief Technical Officer. CEO Phil Ballyk, a Queen's commerce grad, joined Caddie Health last year.
Akshay first experienced the time-consuming process of medical billing while training as a family doctor at the Queen's Family Health Team in downtown Kingston. No matter how busy their day, clinic staff had to sort through lists of codes to complete the billing for appointments. Sometimes incorrect billing codes were submitted, creating delays in payment from the Ontario Health Insurance Plan; sometimes billing for a specific service was forgotten entirely, resulting in lost revenue for the clinic.
"To our knowledge, Ace is the first truly AI-powered billing solution in Canada," says Akshay who continues his work as a family and emergency physician. In addition to curating codes for physicians, Ace prevents errors at the point of invoice submission and makes it easier for a clinic's administrative staff to oversee and report on billing performance.
The trio has been hard at work preparing for Ace's 2023 debut at the Queen's Family Health Team. "It's not easy to deploy software in healthcare and we are proud of what we've accomplished to date," says Ballyk, who has nearly a decade of health care experience as a management consultant.
Following the pilot project, Caddie Health looks to launch Ace across Ontario while simultaneously expanding to other provinces and specialties.
"Billing is just the tip of the iceberg," says Akshay, pointing to the Ontario Medical Association's concerns with the role that medical documentation and administration chores play in physician burnout. "There are many opportunities to support physicians."
Kingston Economic Development CEO, Donna Gillespie, is excited by Caddie Health's national prospects and its local roots. "By combining cutting-edge technology with Dr. Rajaram's practical insights into the challenges of healthcare, this company is bound for success."