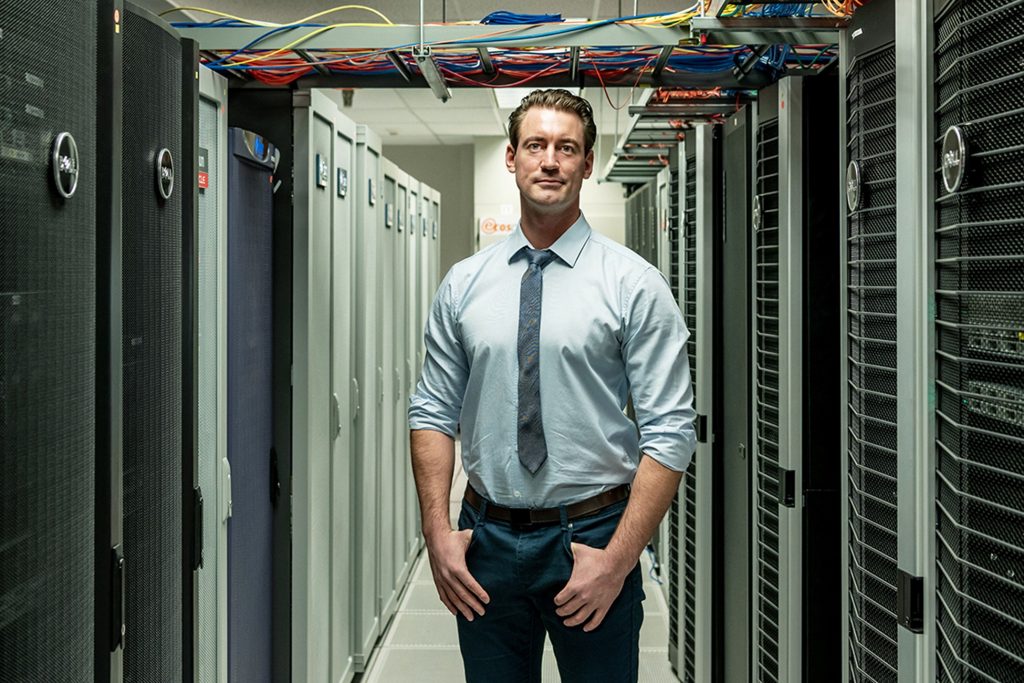 September 2022 – Distributive, Kingston's innovative computing company, has recently moved into the world of health innovation with revolutionary surgical scheduling software designed to shorten operating room wait times.
Distributive (originally known as King's Distributed Systems) was already helping Canadian hospitals to replace expensive cloud-based processing services with their own in-house computer networks when it decided to tackle the medical world's backlog problem.
Even before COVID-19 disruptions, long waits for surgery were grabbing headlines around the world as hospitals struggled to improve the efficiency of their surgical units. But it was a hospital's desire for innovation in 2020 that inspired Distributive to search for a high-tech solution. CEO Dan Desjardins put a team of programmers and mathematicians to work creating algorithms that would speed up the complex process of matching surgical time blocks filled with patients and surgeons to hospital resources.
"We believe that simply increasing surgical efficiencies through better block scheduling and coordination can significantly reduce the surgical backlog and get people the surgeries they've been waiting for," says Connor Crowe, Distributive's business development lead.
Distributive's new Osler OR software uses advanced predictive analytics to analyze a hospital's historical data, resources and predicted surgical demands in order to create optimal block schedules. Traditionally, administrators spend months untangling the thousands of variables that are required to create a "block" of surgical time, but now their personal intuition and experience are combined with hundreds of other data points that are optimized by the software.
Since the first version of Osler OR was completed 18 months ago, eight Ontario hospitals in five different healthcare systems have been evaluating the software in trials based on their own needs and resources. So far staff of three of those provincial health authorities have been trained on the system and are getting ready to implement it for planning their next surgical scheduling periods.
To date, those hospitals' simulations suggest that individual surgeries could be increased by four to eight percent. That potential is particularly significant at a time when COVID-related delays in Ontario hospitals have created a backlog of one million surgeries. An improvement of 8% would represent 80,000 additional operations using existing resources.
Even as Osler OR is being implemented by its first health partners, more hospitals are being recruited as trial participants through the CANHealth Network. In addition, the software is currently being evaluated by the Ontario Bioscience Innovation Organization for inclusion in its early adopter health program that funds innovation in provincial hospitals.
Distributive is already working on a second version of its software — Osler DI —to tackle scheduling for diagnostic imaging departments.
Osler OR is named after Canadian-born Sir William Osler (1849-1919) who is considered the father of modern medicine. Trained at McGill's school of medicine, he became Johns Hopkins Hospital's first physician-in-chief and a founder of its renowned Baltimore medical school in 1889.