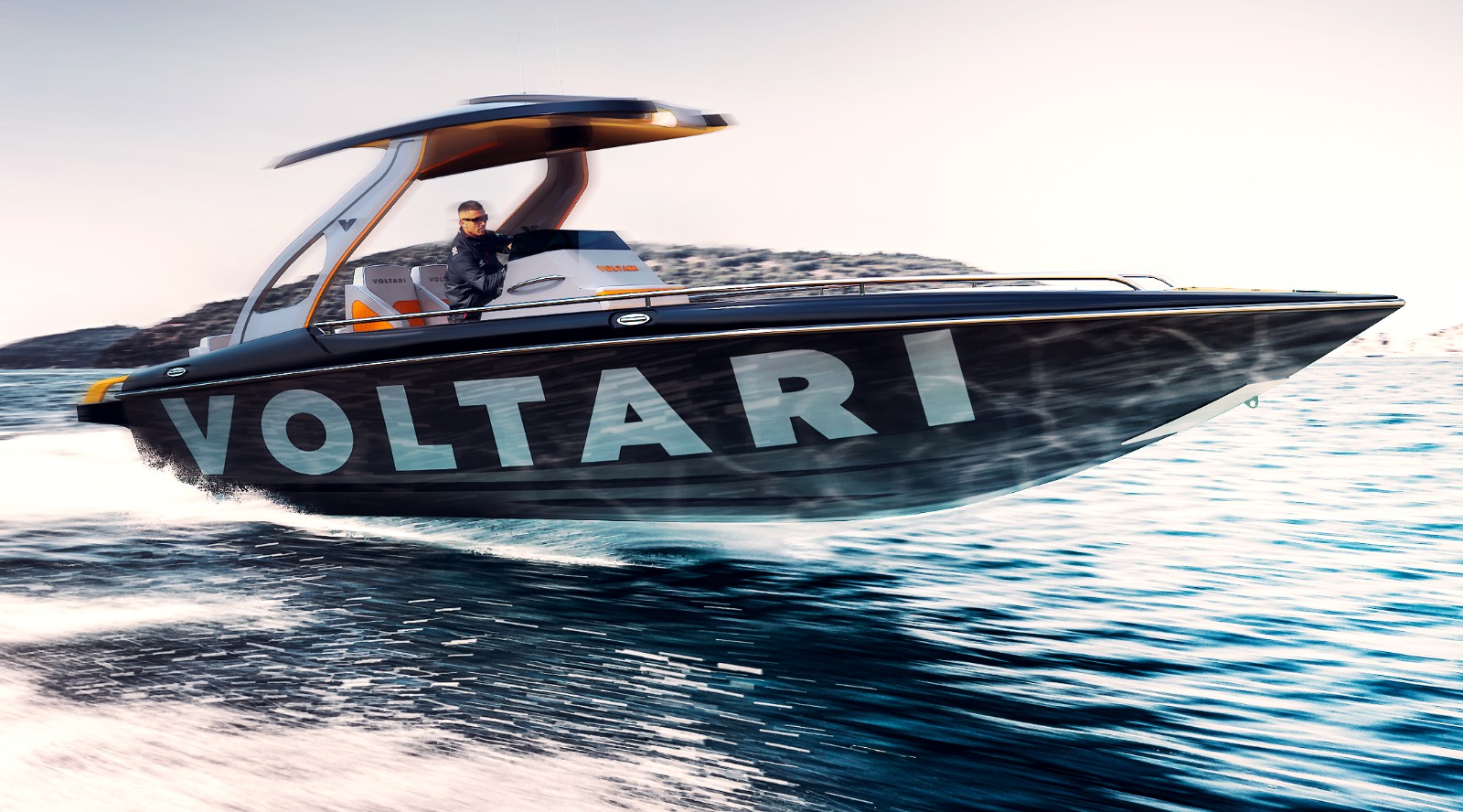 June, 2022 – Kingston will feature in a new chapter of Canadian nautical history this Canada Day with the launch of the Voltari 260.
The 26-foot power EV-boat, built on the popular centre-console design, is a versatile, all-purpose craft suitable for fishing, waterskiing, cottage use and family outings. It's suitable for inland waters like the Muskoka Lakes and Thousand Islands but can also handle wakes and rougher off-shore chop due to its deep-V hull design. Its revolutionary combination of a lightweight carbon-fibre hull and a powerful 160kWH lithium-ion battery yield a comfortable cruising speed of 35 mph, a top speed of 70mph and a range of 100 nautical miles–a full day's use–on a single charge.
Voltari CEO Cam Heaps, co-founder of Steam Whistle Brewing, is unveiling the company's first factory demo boat in Kingston on July 1st with a spin on Lake Ontario. (Production of the first hundred 260s has already started, at a price tag of US$397,000, with several Canadian customers already set to take delivery in 2022.)
Although most of Voltari's new EV-boats will find their way to customers in Florida and the Caribbean, they feature distinctive Canadian technology. The lithium-ion batteries are built-in Montreal, the fibre carbon hulls are crafted in Arnprior, and the components are assembled at Voltari's boatworks in Merrickville. Test runs between Kingston and the cottage of Voltari president Tim Markou near Ivy Lea in the Thousand Islands have been ongoing since 2021.
Heaps has been passionate about offshore boating since his teens but got serious about it in Florida when the economic crisis of 2008 offered bargain-basement prices for expensive fibre glass power boats built for island hopping. In 2015, he began experimenting with high-performance carbon-fibre hulls that trimmed off thousands of pounds to improve speed and fuel economy.
It was only a matter of time before he made the leap to EV-boats.
By matching a lightweight 1,500-pound carbon-fibre hull to a 3,000-pound battery/propulsion system, the Voltari engineering team created an EV-boat that could go further and faster than their competitors. Best of all, there were zero emissions and no noise.
"You never forget your first time being on an electric boat," Heaps says. "There is no engine noise. You just hear the water off the back of the boat – and the person talking beside you."
On board, there are few obvious signs of the 260's electric pedigree. But its quick — and quiet — acceleration proves the advantage of its computer-controlled chain of seven battery packs that provide power to its electric motor, drive, and prop. Voltari owners will also enjoy skipping the lineup for fuel, as the boat recharges overnight. Its high-capacity battery can also provide backup power to a cottage in the event of an electrical blackout.
Kingston Economic Development CEO Donna Gillespie welcomes the Voltari team to Kingston. "We are so pleased that Voltari chose Kingston as the site of the Voltari 260's official launch given Kingston's commitment to innovation and sustainability in business."
To mark its debut, Voltari has partnered with the City of Kingston to install Canada's first EV-boat charging station at the city's Confederation Basin Marina across the street from Kingston's historic city hall.