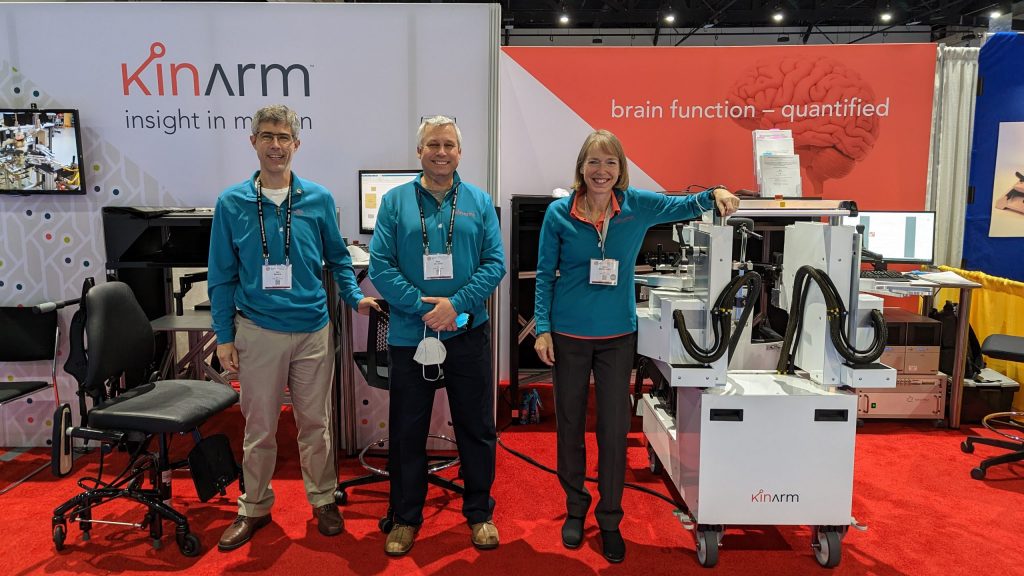 November 2022 – Neuroscientists from around the world met in San Diego for the first Neuroscience conference in three years – and Kinarm was there! Attending were Dr. Ian Brown, co-founder, Paul St. John Snr Software Developer and Anne Vivian-Scott, President & CEO pictured in the booth constructed by the team. "We felt like we were on overdrive for the entire four days. Even with having two fully operational Kinarm Labs in the booth, there was a constant queue for a demo."
Neuroscience brings together 20,000+ neuroscientists from around the world to advance the understanding of the brain, brain injury and disease. From fundamental scientist to neurosurgeons, Neuroscience really covers the entire ecosystem. It is often the starting point on the journey to becoming a Kinarm customer. "We are a product that really needs to be touched and 'played with' to grasp its full potential. We love the "WOW" moment every time a visitor uses a Kinarm for the first time." During COVID, the lack of in-person trade shows was a huge challenge for Kinarm. While our order backlog was healthy going into COVID, as the pandemic lingered, worries grew as new prospects starting dropping. Explaining the product through a zoom call was hard. Often we will meet our future customers as graduate students when they see the Kinarm mentioned in dozens of posters around the scientific poster sessions.
Kinarm ships over 3500 lbs of equipment to a Neuroscience trade show; it is a demanding endeavour both mentally and physically. Each visitor to the booth receives a introduction to measurement of human behaviour and its importance in understanding how the brain works and how it can impact brain health and the trajectory of brain injury and disease. This week we saw an enormous pent-up demand to try and order a Kinarm. We are hugely thankful for the bounce-back and eager to go to our next in-person conference.