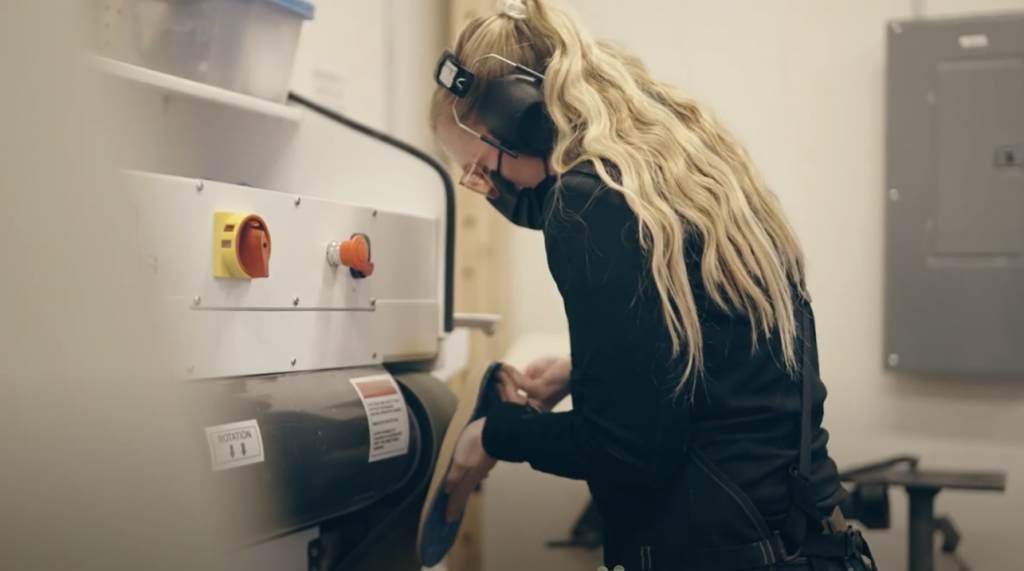 November 2022 – Every year, V2 Innovations, an innovative prostheses/orthoses Kingston company, performs small miracles for more than 2,500 clients.
When an eastern Ontario firefighter lost his leg in a motorcycle accident a few years ago, V2 Innovations offered a high-tech solution that saved his career. They customized a state-of-the-art prostheses originally designed for US military veterans (cost: $120,000) and developed a therapy regime that put him back on his feet and eventually onto a firetruck again.
Another client was fitted with prosthetic hands so she could compete in equestrian events at the Special Olympics.
Not all their successes are headline grabbers but each day, V2's expertise changes the lives of disabled children, aging adults with mobility challenges, high-performance athletes, injured veterans, and anyone else who needs an assistive device to live a fuller life.
V2 Innovations boutique clinic is an important part of Kingston's burgeoning healthcare ecosystem, it provides its clientele crucial access to the world's most advanced orthoses and prostheses, and crucial therapy programs. By staying current with technological advances such as computerized knee joints and electrical nerve stimulation, the V2 team customizes solutions to meet the needs and goals of people making life-altering decisions. When the adaptation of existing state-of-the-art devices won't suffice, V2 technicians build their own in the company's modern workshop.
Founder AJ Venter, a South African medical orthotist and prosthetist who moved to Canada in 2001, says, "We are always looking at new innovations – from carbon fibre to 3-D printing. We apply technology with a custom focus, on a case-by-case basis." There is no single fix or mass production in his world.
Venter is a marathon kayaker who understands an athlete's desire to reach the next level physically and mentally and helps clients reach it.
"Not everyone knows what's available," he says. "Really, the sky is the limit."
Venter and V2 Innovations partner Marty Robertson sees a bright future ahead as technical advances offer new horizons for eastern Ontarians with a range of needs. One promising advance is the use of functional electrical systems (FES) that stimulate nerves to assist walking for people with central nervous system impairment. Venter has a decade's experience working with FES devices by Bioness, an innovative California medical-device company.
Each new client starts with a thorough assessment that considers strength, range of motion and past interventions. Once individual goals are identified — some as basic as standing 10 minutes a day, others to win a gold medal — the V2 team devises a strategy that combines devices and therapy. Venter is especially enthusiastic about introducing spinal cord injury clients to adaptive sports.
"We provide lots of follow up. It is important to keep clients safe and give them confidence in whatever device we provide," says Venter who admits the work can be an emotional business for both V2's staff and their clients.
"Sometimes there are tears," he admits. "Sometimes happy tears. Sometimes tears of disappointment… It's not clinical. We're in a lifelong relationship."
Right now, V2's nine-member staff works out of two locations in Kingston: an east end facility for client assessments and the creation and modification of devices, and a west end therapy clinic.
V2's Kingston location gives the company easy access to Queen's University. Both partners are guest lecturers at its School of Rehabilitative Therapy and the company participates in collaborative research with the university's Mechanical and Materials Engineering Department.
"Clearly, both V2 and our community are well matched," says Kingston Economic Development's CEO Donna Gillespie. "While V2 draws clients from all across eastern Ontario including CFB Kingston, it also benefits as a member of our innovative healthcare sector with access to Queen's University and our medical institutions. Their customized products and services are a game changer for their client's quality of life."