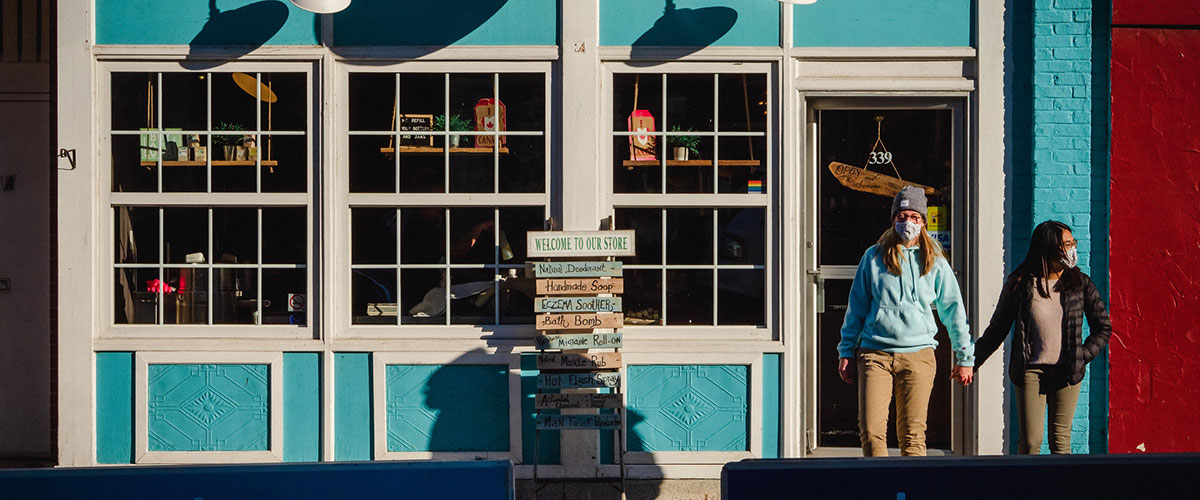 grow
My Main Street
Kingston Economic Development participated in the My Main Street Local Business Accelerator – a data-driven program focused on revitalizing main streets while providing residents, new entrepreneurs, and existing businesses with economic opportunities in their main street community. Local businesses will have access to customized market research reports, data analysis, access to business training, and the potential for funding opportunities.
My Main Street is a partnership between the Economic Development Council of Ontario and the Canadian Urban Institute and is funded by Federal Economic Development Agency for Southern Ontario.
Meet The 2022-2023 My Main Street's Local Business Accelerator Participants:
BSE Skateboarding
BSE is a place where people can find decks, hard goods, apparel and shoes that reflect today's modern skateboarding scene, and since 2020, includes a coffee bar that features a number of locally sourced hot and cold drinks and café-style snacks as well as artisan ice cream bars and popsicles.
Kingston Frameworks
A "Do it Yourself" frame shop, Kingston Frameworks offers a wide variety of custom framing, printing, and high-quality scanning options, including; art installation, custom framing, print mounting, digital printing, art scanning, art & photo restoration and dropshipping for artists.
Midori Gifts
Midori gifts is a unique stationary and gift store that specializes in cultural products from Asian countries. They are committed to bringing a fresh take on traditional and gift items.
The Screening Room
An intimate, down-to-earth, newly-renovated, 3-screen independent movie theatre located in the heart of downtown Kingston. The Screening Room is committed to bringing a wide selection of films to the big screen in Kingston; they specialize in art-house, indie, foreign, and classic cinema.
The Keep Refillery
A low-waste shop that offers a wide range of locally sourced, all-natural, organic, cruelty-free and plastic-free products!
Churn Small Batch
A small batch ice cream store bringing new and unique ice cream to downtown Kingston. From their re-creation of 90s classic treats such as ice cream and upping the deliciousness of classic flavours, there is something for all ages at Churn.
Curate Social
Curate offers men's and women's clothing and accessories from Canadian and International designers and features a 35-foot full-service bar, to allow customers to enjoy a coffee, cocktail or a glass of wine while shopping and mingling with friends and family. Curate also offers a special events venue space for groups of up to 50 people.
Hoopla Press & Gallery
Hoopla Press & Gallery (HPG) is dedicated to displaying contemporary hand-pulled prints, while also providing modest, affordable and digitally inclined printmaking facilities to print-based artists and print enthusiasts.
Onefold Home
Onefold Home is a start-up retail store offering modern home accessories and essentials to consumers wanting to create a personalized home environment – that "I'm home" feeling.
Whiskey & Rosé
Whiskey & Rosé Inc. is the umbrella company for Hey Darlin' Diner and The Pearl Wine Bar restaurants. A classic diner, Hey Darlin' offers American comfort food using local ingredients. The Pearl Wine Bar is an upscale wine bar and cocktail lounge offering a unique gastronomical experience to our guests.
Daft Brewing
Daft brewing is a west-coast inspired brewery/taproom that doesn't blend in with the crowd. The ultimate taproom for anyone who loves beer and socializing. A non-pretentious spot for craft beer drinkers of all levels.
Gaby's Café
Gaby's Cafe offers a variety of healthy, home-style breakfasts and lunches, including fresh-baked goods, sandwiches, full breakfasts and hot lunches.
Go Green Baby
Go Green Baby, a simply natural choice for pregnancy, babies, children, and families. Cloth diapers, maternity and nursing wear, sustainable toys, and more.
The Elm Café
The Elm is passionate about sourcing products responsibly and serving simple and delicious eats alongside direct-trade coffee. They aim to enrich our community by providing a space for people to meet, learn, create, inspire and grow.
Chartreuse Flower Works
Chartreuse Flower Works is a Kingston-based floral shop, boasting old-fashioned service, unique products, handmade items, Dutch confectionary flowers seldom seen and old-time favourites.
Lauren Kaufmann – The Studio
A self-contained event venue. Modern and bright yet cozy and character-filled. The unique space offers a modern twist on a historical building, in the heart of Kingston with gorgeous waterfront views. Ideal for art shows, photoshoots and filming, parties and receptions, meetings and corporate events, intimate weddings, workshops and retreats.
Pizza Monster
Located at 213 Montreal Street, Pizza Monster started as a pop-up pizza shop and has evolved to provide great pizza, cold beer and chill vibes from their local kitchen and wood-fired oven.
Daughter's General
Daughters General is a family-owned small business located in the center of Kingston's Inner Harbour Neighborhood. They offer a thoughtful selection of comfort foods and basic necessities that are sourced locally.
5678 Dance Studio
5678 Dance Studio offers all genres of dance classes for ages 3 to adults. Their mission is to enrich individuals and communities through dance education by helping each student, regardless of age, ethnicity, sex, gender, physical or cognitive abilities to reach their fullest potential by enhancing their interest, talents and enthusiasm across all dance disciplines.
TULA Café
TULA café offers plant-focused food & drink items that often feature adaptogens to help balance the body & mind. Featuring espresso-based drinks, smoothies, vegan baked goods, and grab & go lunch items.